Stern of the Union - January 2022
The Stern of the Union Address is your monthly resource for news, information, and highlights on all things Stern Pinball. Without further ado my fellow pinheads:
Rush at CES:
Over 40 million records sold. More than 40 years of unparalleled creativity. Countless sold-out tours. An impassioned global fan base. A star on the Hollywood Walk of Fame. Inductions into the Canadian and U.S. Rock and Roll Halls of Fame. Officers of the Order of Canada. Countless other awards and recognitions. That's all very nice. For the three band members, however, it was never about the accolades. It was always about their music, their friendships, their band, their fans, and now…PINBALL!!!
Stern Pinball and the iconic Canadian progressive rock band, Rush rocked the entire world with a massive global launch of the new hit pinball machines at this year's Consumer Electronics Show! Rush officially teased and announced the game across all official Rush social media channels to a rabid fanbase of millions of followers. The teaser video in addition to official launch videos have amassed over 550K views and counting!
The international press and media exposure has been relentless with Rush pinball machines being featured in Blabbermouth, Ultimate Classic Rock, Loudwire, Louder, Paste, uDiscoverMusic, Consequence Heavy, Exclaim!, Bleeding Cool, Far Out, American Songwriter, ShackNews, numerous radio outlets, and a deep dive by This Week in Pinball to name a few.
Visit the official Rush game page for full details on this pinball rock concert experience including the official game trailer, Back in the Studio with Rush feature, Pro model game features, Premium/LE model game features, and the official reveal stream with the game team!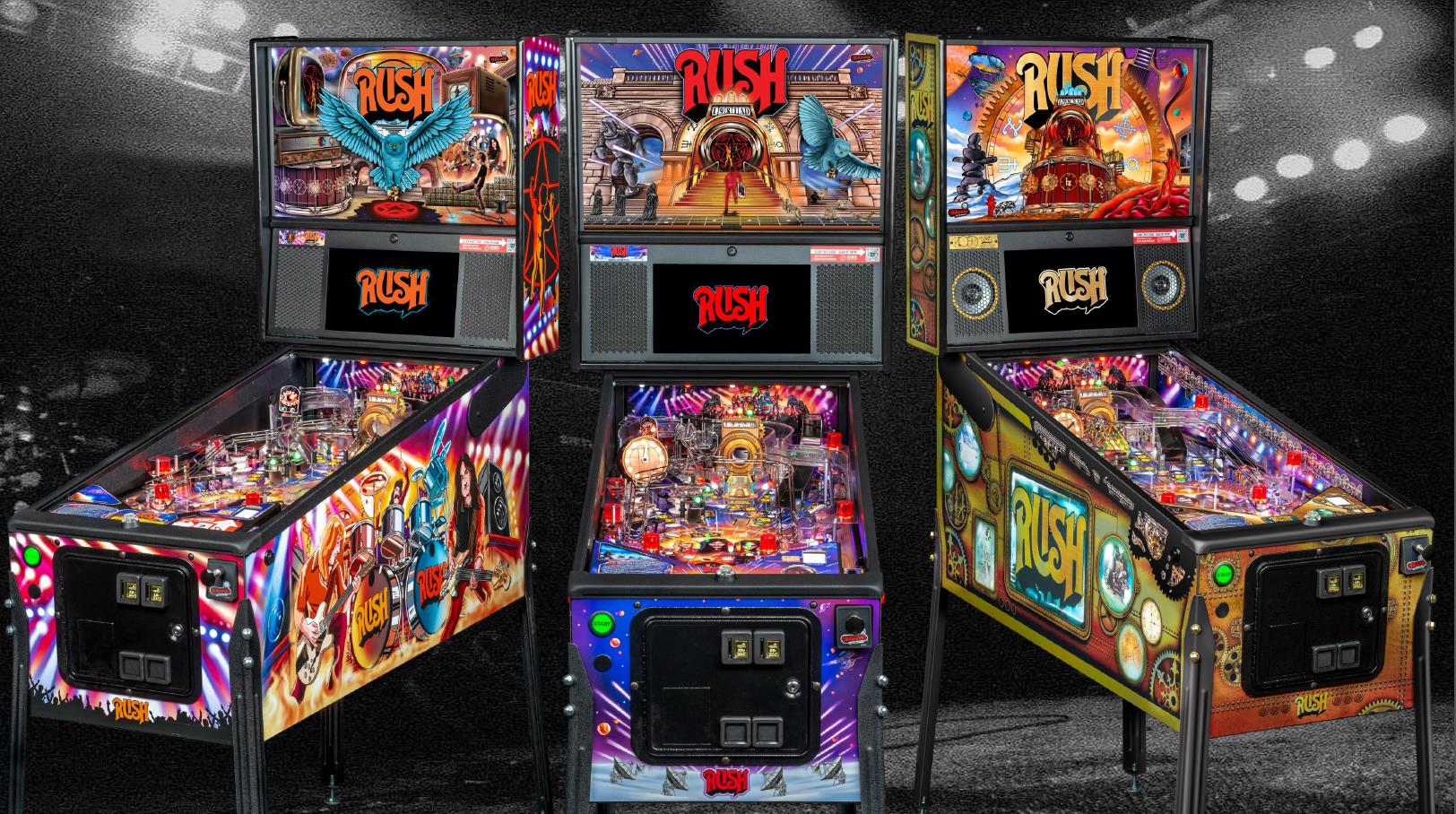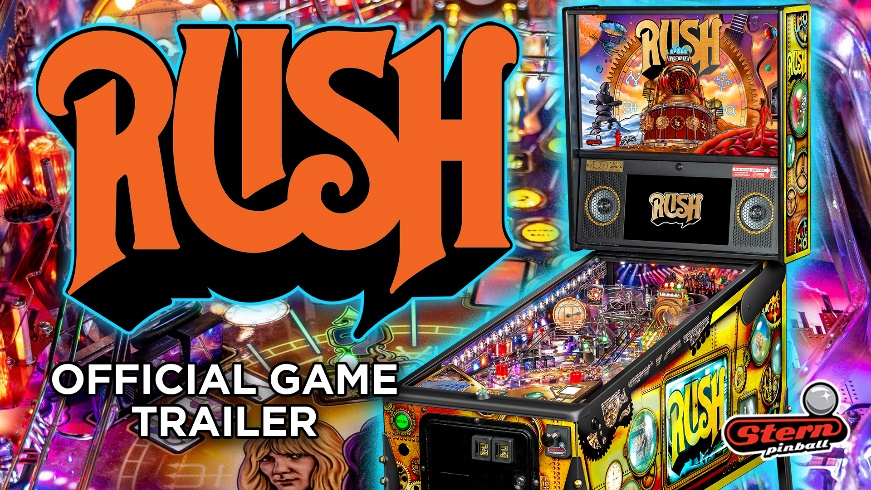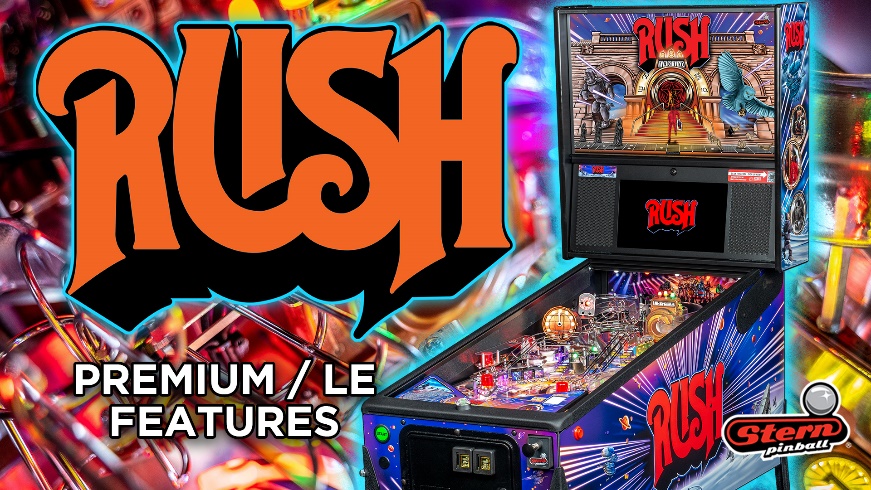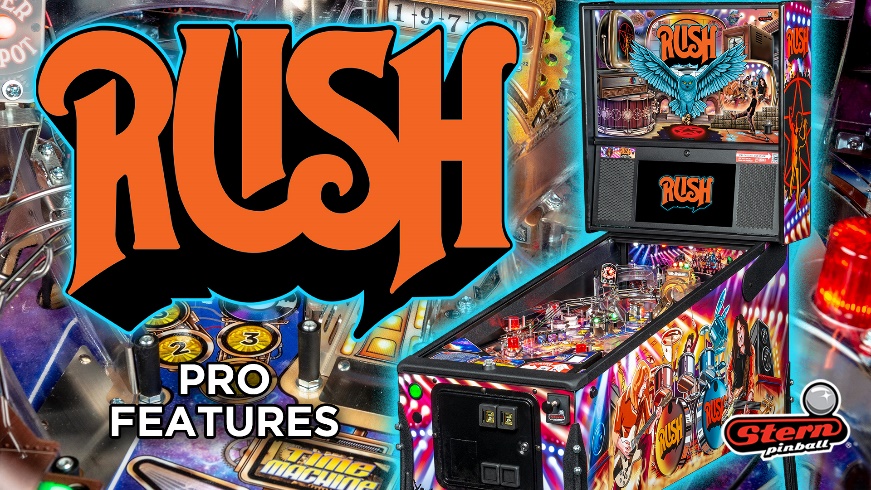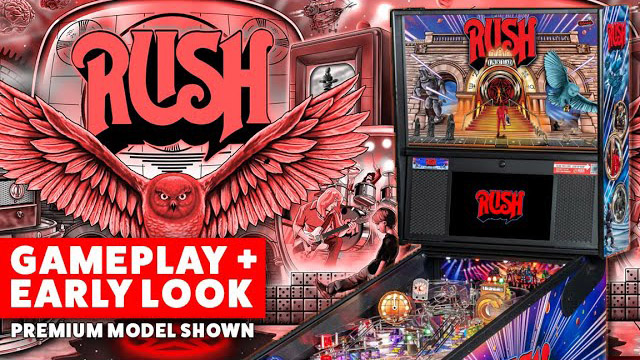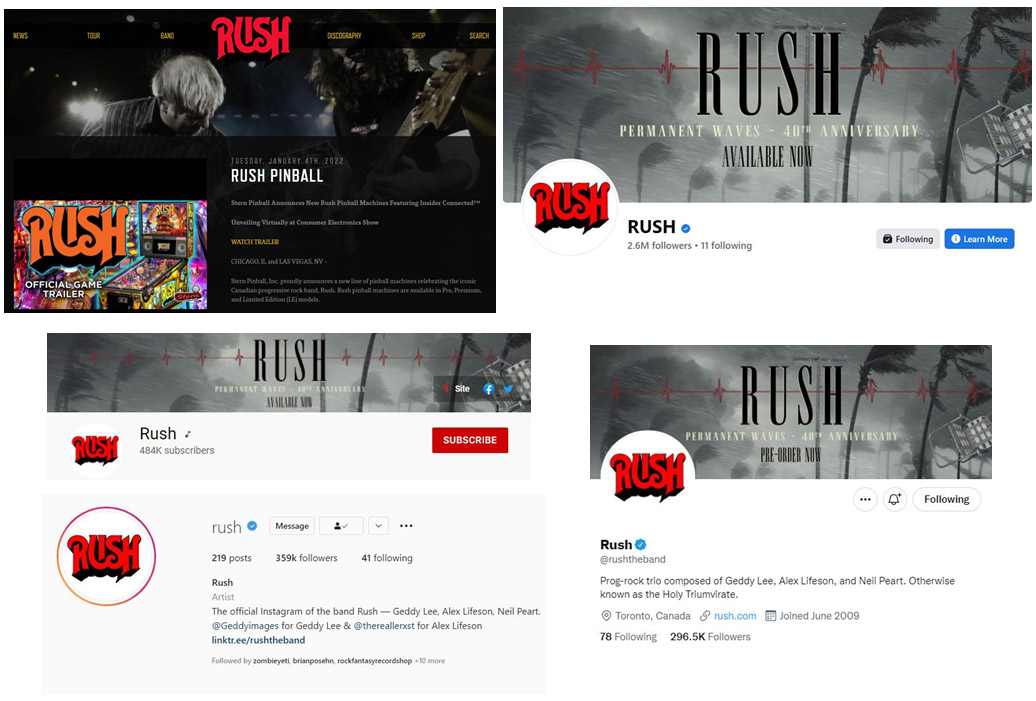 Stern Insider Pinball Podcast:
Available for all Stern Insiders (Basic and All-Access), listen to two special episodes of the Stern Insider Pinball Podcast! The first episode features an exclusive interview with fellow Canadian Rock Hall of Famer, Ed Robertson of the Barenaked Ladies who was instrumental in bringing his dream theme to reality while working directly with the band! The second episode features a panel discussion with the Rush team including lead software engineer Tim Sexton, lead mechanical engineer Elliot Eismin, computer graphics art director Chuck Ernst, and technical lead artist Paul Chamnankit as they discuss their collaborative approach in bringing this rock and roll pinball adventure to life! All episodes can be listened to here! https://insider.sternpinball.com/exclusives/podcast
Not an Insider? Get Connected and become a Stern Insider today! https://insider.sternpinball.com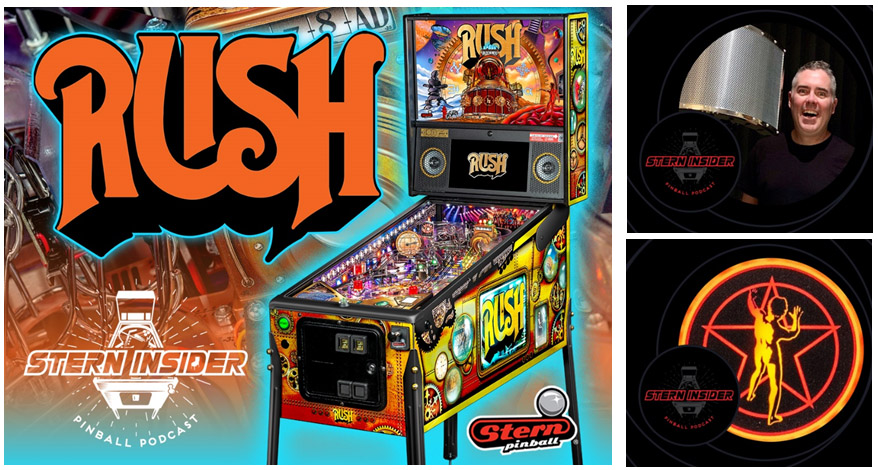 Stern Insider Rush LE:
Available only for Stern All-Access Insiders, there were a very limited number of Rush LE pinball machines available to purchase directly on the Stern Store. Missed out on this perk and don't have All-Access? Get connected and become a Stern Insider today!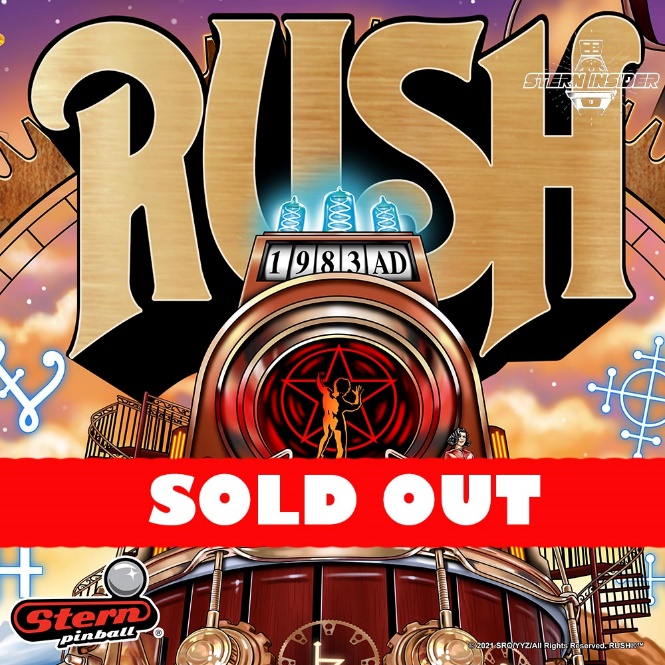 Insider Connected:
In case you missed it live, check out this Dead Flip livestream highlighting the easy-to-install process for connecting your Insider Connected Upgrade Kit! In addition, watch Chief Creative Officer George Gomez discuss Insider Connected on the international Pinball TV broadcast here!
And talk about achievements! Pinball Garage out of Ohio currently has 9 Stern Insider Connected pinball machines, Game Galaxy out of Tennessee has 8, and My Parent's Basement out of Georgia has 7. How many does your location have? Get connected and play at a location near you! https://insider.sternpinball.com/insider/locations
Are you an operator and need your location connected? Apply today! https://insider.sternpinball.com/pro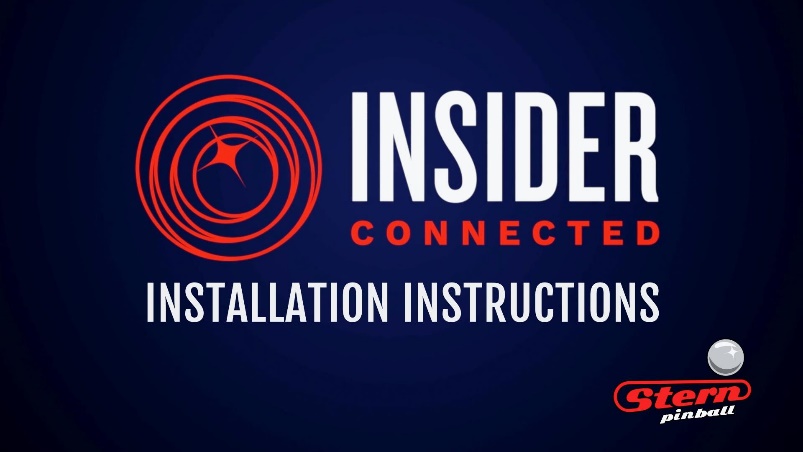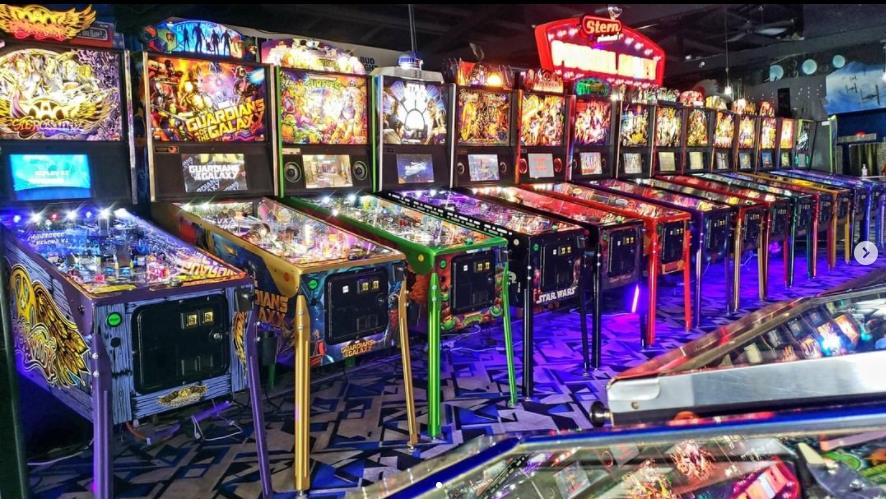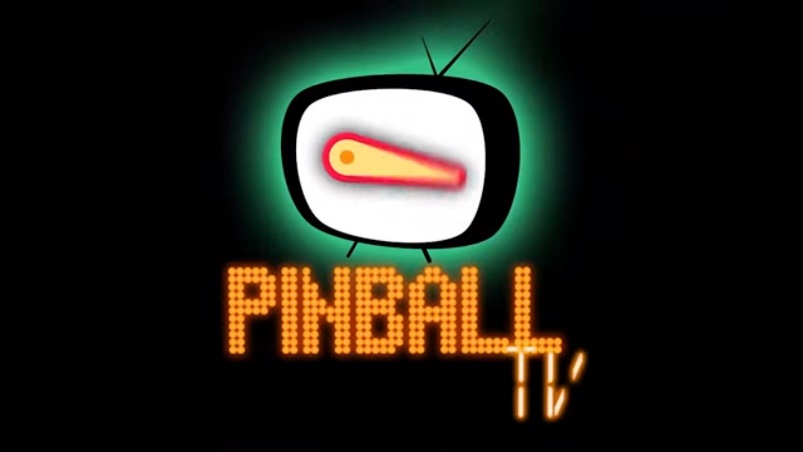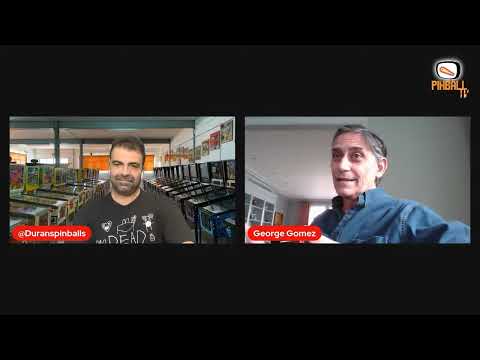 MarcoTV PinTech Live with Godzilla Premium and Jurassic Park Home Edition:
In case you missed it live, check out a replay of the Jurassic Park Home Edition stream with lead game designer Jack Danger. Also tune in later today to watch lead mechanical engineer Harrison Drake join the PinTech crew to discuss all of the mechanical wonders in a Godzilla Premium livestream event starting at 2pm CT! Subscribe to Marco on Twitch, Facebook, and YouTube.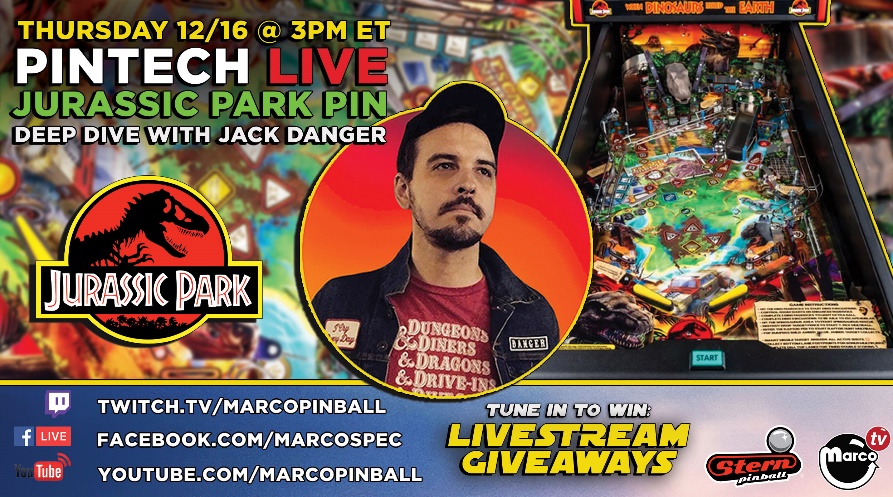 Marc Mandeltort:
On behalf of all of us here at Stern Pinball and the entire pinball community worldwide, we would like to extend our deepest sympathy and respect to the Mandeltort family and everyone at Marco Pinball. Marc was a true champion of the industry and will be greatly missed.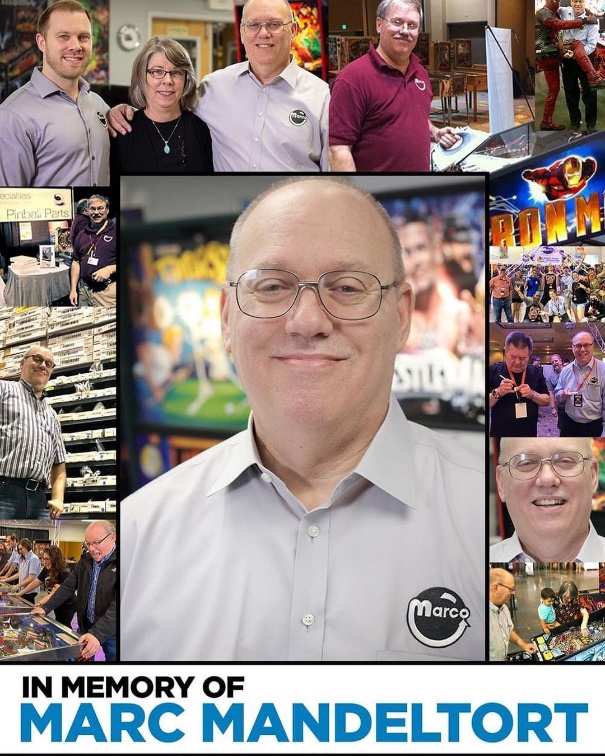 Gameroom of the Month:
Congrats to Don Luppo from California for winning Gameroom of the Month! Do you have a special home gameroom you want to share with the world? Leave a photo comment on this Facebook post and you may be our next winner! Not on social media? Not a problem! You can submit your incredible gameroom directly to Insider@sternpinball.com for your chance to win an exclusive Stern Swag Pack!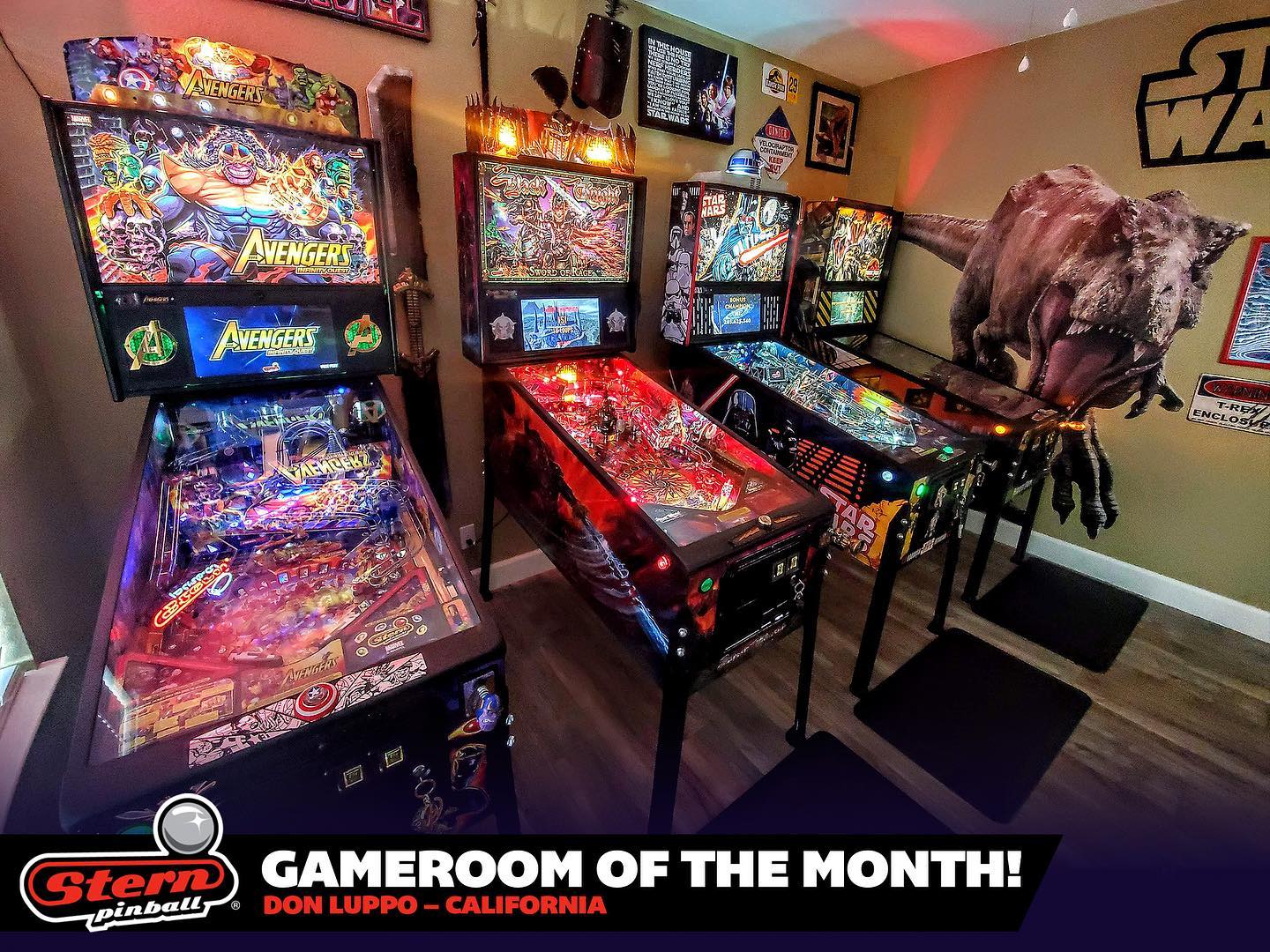 Stern Army Updates:
The Stern Army continues to grow with troops spreading the gospel of pinball across the globe. Here are our newest troops and the pinball locations they support:
Private Gavin Drogemuller of Australia (The Park Coomera)
Private Juan Ortiz Garcia of Spain (Associacio A.R.C.A.D.E.)
Private Jim Bruso of Kentucky (Pinball Museum of Corbin)
Private Joseph Fox of Delaware (Delaware Pinball Collective)
Private Dylan Snow of Oregon (Ground Kontrol Classic Arcade)
Private Chris Presley of Ohio (The Attic on Adams and Heavy Beer Co.)
Private Jarrett Crum of Alabama (Fairhope Pins & Pints)
Private Neil McRae of England (Flip Out London)
Private Mark Jezioro of New York (Rochester Pinball Collective)
Private Izzy DeMark of Pennsylvania (Carlisle Sports Emporium)
Private Ryan Harris of Idaho (Ellis Amusements)
Private Joe Kuntz of California (Revenge Of)
Private John Karalis of Wisconsin (NerdHaven Arcade)
Private Tim Naumann of Minnesota (Luce Line Brewing Co.)
Congratulations to the following Stern Army members on their promotion from Specialist to Corporal:
Corporal Michael Hosier of California (Coin-Op Sacramento)
Corporal Lucas Bardin of Australia (General Public)
Corporal Will Long of Ohio (Cartridge Gaming)
Corporal Donavan Stepp of Colorado (1up Greenwood)
Congratulations to the following Stern Army members on their promotion from Private First Class to Specialist:
Specialist Bryan Caudill of North Carolina (Boxcar Bar + Arcade)
Specialist Michael Centini of Ohio (Vaporosity Retro Arcade)
Specialist Mike Moretti of California (The Flipper Room)
Specialist Lane Hill of Washington (Airport Tavern)
Specialist Jared Neible of Indiana (High Score Saloon)
Specialist John Monkus of Arizona (Pinpoint Fayetteville)
Specialist Ian Thorley of Colorado (CO Bar)
For more information and to join the Stern Army, please reach out to SternArmy@sternpinball.com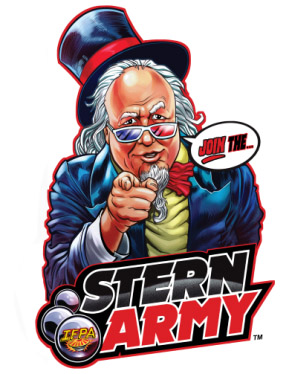 Brewery of the Month:
Congrats to Drekker Brewing Company for winning Brewery of the Month! It's starting to get cold out there and there's no better combination than pinball and beer. Do you have a special brewery you want to share with the world? Leave a photo comment on this Facebook post and your brewery might be our next winner! Not on social media? Not a problem! Submit your incredible brewery pictures directly to Insider@sternpinball.com for your chance to be featured as our next winner!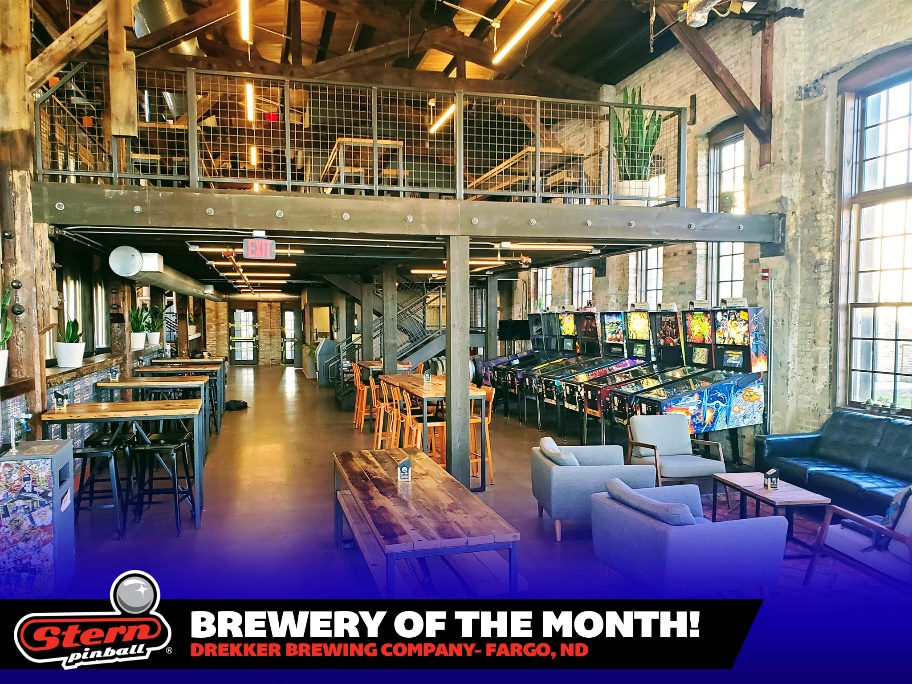 Status of Code:
We are continuously working to update and improve software for our machines. There are always code updates and bug fixes in various stages of development; we will release them upon update completion. If you would like to join our mailing list for code updates, please send an e-mail to Code.Updates@sternpinball.com. If you do encounter any bugs please feel free to provide information to bug.report@sternpinball.com. Get Connected and play! https://insider.sternpinball.com/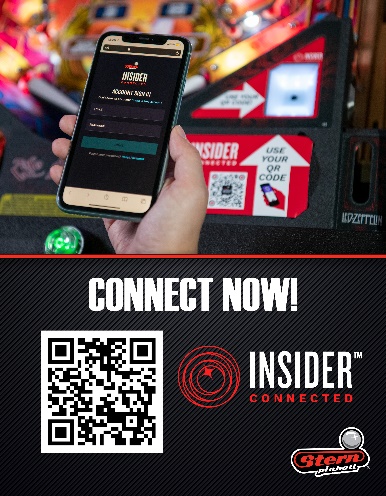 Godzilla – For all Godzilla owners, please update your game to the latest code (v0.85).
The Mandalorian – For all The Mandalorian owners, please update your game to the latest code (v1.01).
Aerosmith – For all Aerosmith owners, please update your game to the latest code (v1.10).
Black Knight: Sword of Rage – For all Black Knight owners, please update your game to the latest code (v1.12).
Guardians of the Galaxy – For all Guardians of the Galaxy owners, please update your game to the latest code (v1.09).
Led Zeppelin – For all Led Zeppelin owners, please update your game to the latest code (v1.12).
The Beatles – For all Beatles owners, please update your game to the latest code (v1.20).
The Munsters – For all Munsters owners, please update your game to the latest code (v1.10).
Stranger Things – For all Stranger Things owners, please update your game to the latest code (v1.05).
Supreme Gesture:
Redefining the most wonderful time of the year, here's an incredible heartwarming story with a huge shoutout to Orange County Pinballs for making the pinball connection! Brian McCormack and Dan Goldsmith, a recently converted pinhead, have become great friends of the respected CEO of Rush Medical Center, Dr. Omar Lateef. Dr. Lateef and the entire team at Rush have made an incredible difference in the Covid-19 response for Chicago. Meeting Omar was a pleasure and he is one of the most humble and kind individuals on the planet.
Brian and Dan found out that Dr. Lateef and his son are huge sneakerheads and wanted to surprise him with a tour of the Stern factory and the opportunity to check out the one of a kind Supreme pinball machine. What started off as a special VIP factory tour with Gary Stern, ended with the ultimate gift of all… a donation to the Rush Medical System supporting programs for at-risk patients!
Needless to say for the first time in his life according to the Doctor himself, he was truly at a loss of words and overwhelmed with the gesture…plus it doesn't hurt to get the instant approval and wow factor from his son in the process!
At Stern it is always great to see the power of pinball bring people together in unique ways for good causes. Thank you to Dr. Lateef and the Rush team for all of the amazing work you do every day taking care of our community!
#TisTheSeason #Supreme #SternPinball #Pinball #PlayStrong Supremenewyork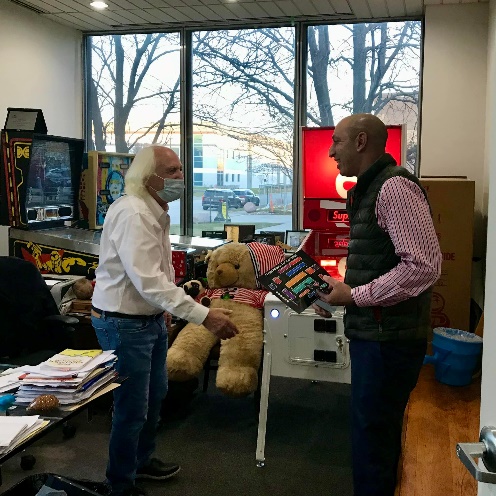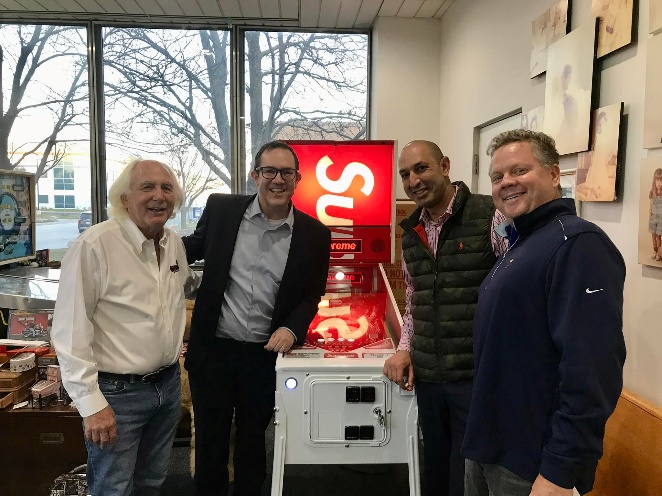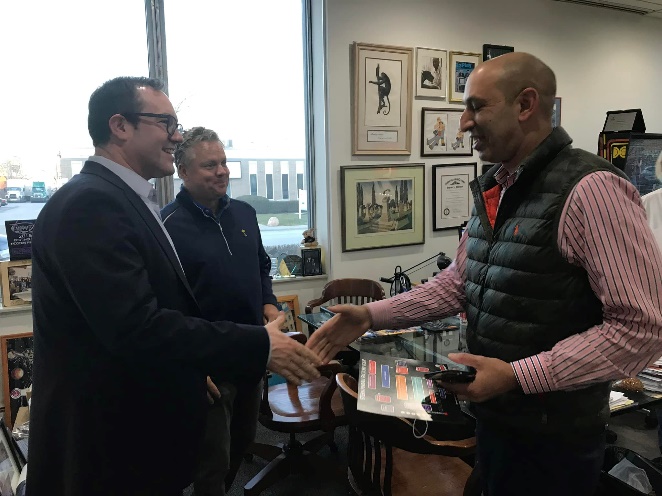 Stern Pinball Enhances Game Design Studio:
Stern Pinball has announced the hiring of Jack Danger in the role of Game Designer. Stern added Jack to enhance and strengthen our talented design studio. Here's the official press release of this announcement and please join us in welcoming Jack to the Stern team!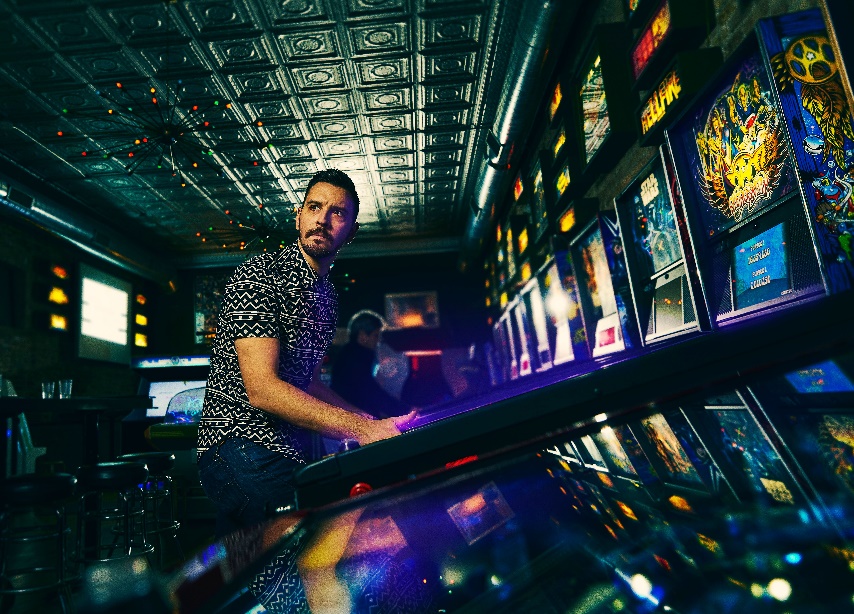 Accessories:
Check out our Stern Shop for all accessories, collectibles, clothing and more including this month's featured items, the Stern Sherpa Hoodie, Retro Arcade Long Sleeve, Stern Charcoal Varsity Hoodie, and Pinmobile Long Sleeve! Free domestic shipping on orders of $50 or more on all Stern merchandise.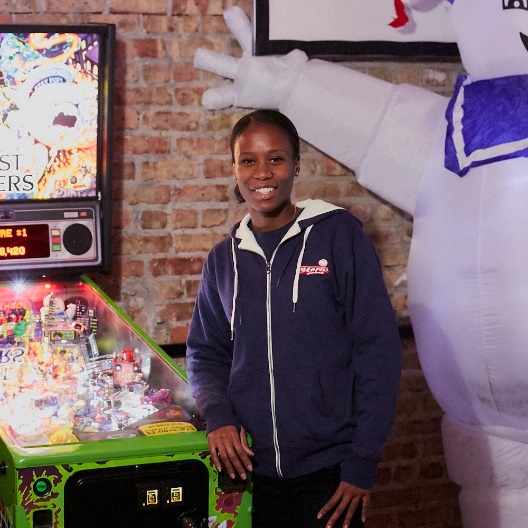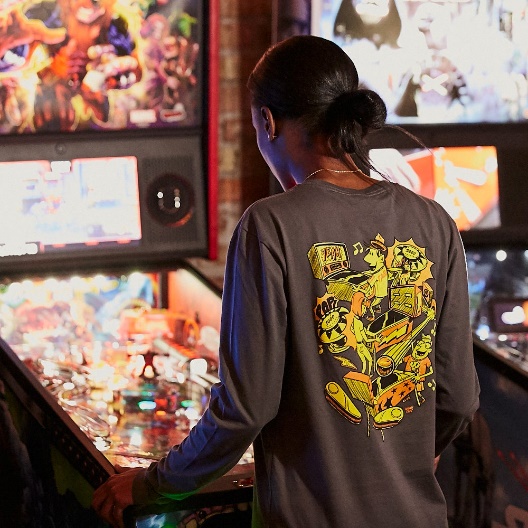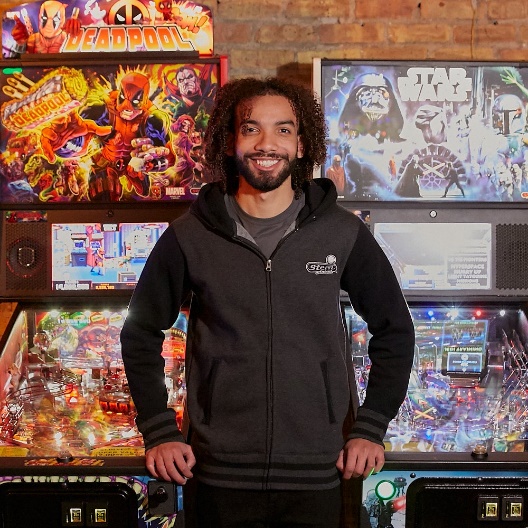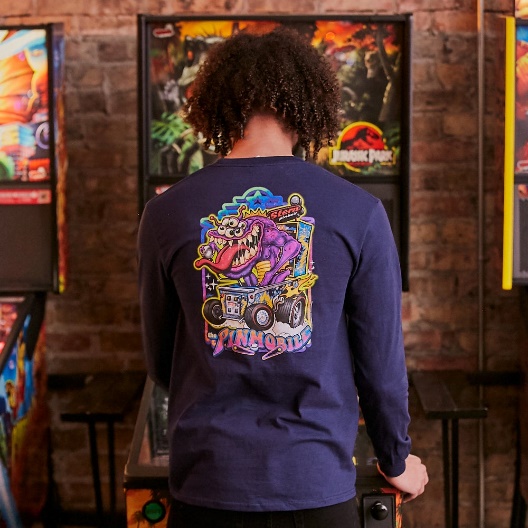 Go back